FireFTP
[Download Now!]
[Buy Now!]
[Screen Shot]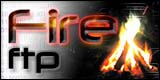 FireFTP is a powerful FTP client that makes downloading mp3 music, movies and software easy by combining an easy to use interface with a versatile multi-threaded file transfer engine.

Version: 1.0

Price: $19.95 All upgrades are absolutely free.

Platforms:



Features:
· Downloads mp3 music, movies, software and much more
· Drag and drop interface
· Multi threaded with up to 16 synchronous transfers
· Ability to browse sites while downloading files
· Download from multiple servers at the same time
· Original Napster type interface
· Site manager stores frequently used sites
· Anti-idle
· Port range limiting for port forwarding


Download: pff1_0.exe (2.2MB)

Registration: Click here for ordering information

Support: Support is absolutely free. If you have any questions please contact us!